Is that Lucille Ball on the right?
No, it is not Lucille Ball
I recognize the faces but can't think of the names except for Maurice Chavali. I know it's spelled wrong.
Angela Lansbury. Charles Boyer, and Ingrid Bergman. Wife's guesses, I was clueless.
branchkin - Your wife is correct. This is from the set of the 1944 movie "Gaslight", which subsequently made the word gaslight a verb in addition to being a noun with a completely different meaning.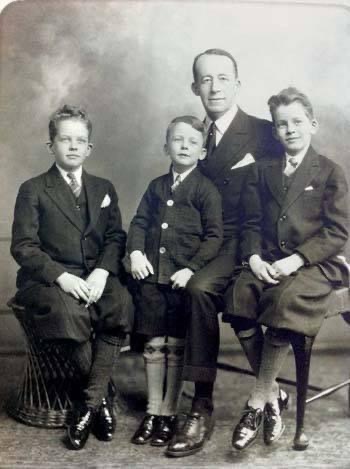 Hint: Not all "HamBurgers" are edible. The person on the left is the only famous person in this photo. It is a photo of him with his father and brothers before he became a well known actor.
Wife says the one on the left is William Talman, known for his part on Perry Mason.
branchkin - Your wife is correct. Did the HamBurger hint help her since William Talman played the role of Hamilton Burger on Perry Mason.
Se didn't see the hamburger hint.
I stand corrected, she did see the hint and it was a big help.
No, it is not Elvis. Hint: His mother was well known for being a gossip but she wasn't a gabler.
Clark Gable before the mustache?
Another Hint: This photo was taken in 1936 but you may have "detected" him on TV during the fifties and sixties.