Vivien Leigh. "Frankly my dear, I don't give a damn!"
glasspilot - You are correct
weenut - You are correct about Elizabeth Taylor but she is with one of her other husbands.
Hint: Would you like to go around the world to search for him
That must be Mike Todd, who Taylor called her one true love.
As for the next photo, I think that is Walt Disney on the right. Not sure about the left guy.
jimtoo - Yes, it is Mike Todd and Liz Taylor often referred to him as her one true love.
Yes to Walt The other guy is a movie star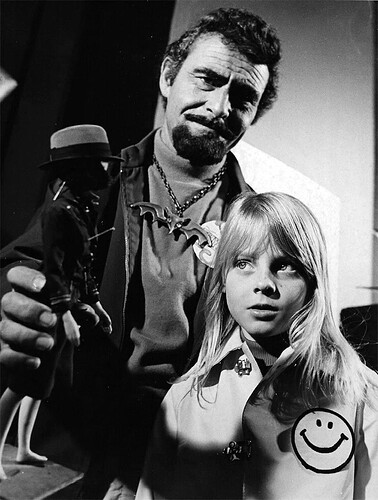 Hint: Do you need coppertone sunscreen lotion in the twilight zone?
Another Hint: This will photo was taken in 1971 when the girl in this photo was nine years old. She started her career at the age of three in commercials and subsequently became an actress and filmmaker.
The man is this photo was a screenwriter and producer, but best known for his narration in a T V series.
The guy looks a bit Like Rod Serling. I am guessing that the girl is Drew Barrymore.
for the one I posted
he's missing facial hair that is his famous trademark
Rod Sterling and Jodie Foster.
WTG branchkin - You are correct
jimtoo - Rod Serling is correct but the girl is someone else
Rue McClanahan from the Golden girls
WTG sister - you are correct

Excellent Sister. I would have never guessed that.