We talked way too much about politics and abortion the last couple days.
I am learning to play golf.
Cool

that's such a difficult sport
Are you doing 18 holes or 9 hole or driving range?
A sport you will grow to love and hate, several times in 5 minute increments.
Getting back into theater a little bit.
Doing my second show this year in two weeks.
I love golf. Especially so because it is such a challenge.
Nothing like striping one deep down the middle of the fairway………and then shanking a 70 yard pitch to the green!
100% correct.
Like you said, makes you hate the game, but you still love it.
My wife is taking up the game this year so we have spent the last several weekends on the course.
She hit a perfect shot last weekend and it just clipped the only branch that it could have and dropped straight down. I got the dirtiest look when I laughed.
Good luck. Challenging, frustrating, and addicting if you got the free time. I use to play on high school golf team. I would frequently would shoot 6-8 over. Rarely would all aspects of the game all line up. Driver would be good but couldn't hit a putt. Other days make 50 foot putts but couldn't hit a fairway. Typical my wedge game was where I made it. I would sometimes carry 5 different wedges. In my peak, I could hit a decent driver but I would carry a 1 and 2 iron. I could typically out drive my opponents with a 2 iron. That one iron was difficult to hit. One day all aspects of my game were on fire until the snowman on 12. I started out 4 under thru 4 and didn't have a putt over 3 feet. Nowadays I don't hardly play. I just don't have the time to practice or play. I haven't played in about 3 years and probably not more than 5 times in 5 years. Last time I played I shot 88. I don't enjoy going out and hacking it up knowing how well I could play if I practiced.
I play more putt putt. My 2 and 4 year olds like putt putt.
My favorite hobbies revolve around my shop. I like metal working, building engines, working on cars, motorcycles, or anything with an engine and wheels. One thing I really want to build is my own car. I want to build a 20's board track racer for a normal driver. Open top, no ac, 1 maybe 2 seater, bare bones, turbo 4 banger with manual transmission. My favorite chopper is bare bones that most would be too afraid to ride.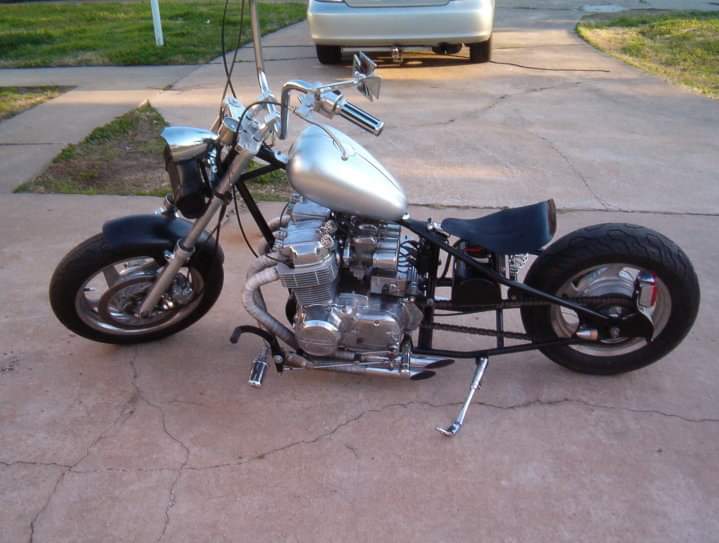 Could have used you Thursday.
Had to replace the control arm on my sons car.
I gave up golf when I trained for my first marathon, 4 hour rounds of golf couldn't happen when I'm running 8 hours a week.
Now my hobbies are running, mountain biking, I like to think paddleboarding but I don't actually seem to do it right now. I'm retiring in a year and I can very much see getting into motorcycles, specifically touring bikes over a Harley. I'm looking for a free weekend where I can take a 2 day course to see if I'm into it. My only exposure to a motorcycle type experience is blasting through traffic on a scooter in Bali.
If you decide to get into motorcycles, please make sure that you sign up to become an organ donor if you aren't one already.
I've been an organ donor since it became an option. Its like they say, you can't take it with you.
I have a new short story I just submitted. I'll post a copy in the members only section if it allows PDFs.
Looks like it doesn't. Wondered if that might be the case.
Should be allowed. What is the error?