What is the difference between VRBO and AirBnB?
A few years ago, the biggest difference was with AirBnB, you'd book through the company itself, so it seemed a little safer. I'm not sure, but I suspect that difference has gone away.
I've used AirBnB a few times, with some success, but pay attention to the reviews and fees. Lots of ways to hide small fees and I hear stories of ridiculous lists of "chores" people are expected to do when leaving and that kind of stuff.
Better peace of mind with a hotel honestly, but in some places, you can save money with these companies.
I've never used airbnb but have used VRBO. My understanding was airbnb was more like renting a room vs renting an entire house. I am probably completely wrong since I have never looked into airbnb.
I rented many beach homes on vrbo. Of late, I have used VRBO to locate the property then book directly on the hosts website. I understand that's only an option for some the larger corporate places and not the individual. There is typically a substantial fee for booking via VRBO that is avoided by booking direct. This is probably higher risk than using VRBO and paying for that fee/service so use at your own risk.
I think both rooms and houses are available on AirBnB, but if I had to guess, I'd say you're partially right. VRBO probably has more whole houses and AirBnB more rooms.
I have a friend that uses both often, she likes quirky places off the beaten path or real nice expensive places near the beach or in the mountains. Read the reviews and know the rules and fees.
Booking thru VRBO, they will show the price per night. Between taxes and other fees, quite a bit is added to the total.
Took a trip to Gatlinburg, Tennessee about 18 months ago. Here is the tab…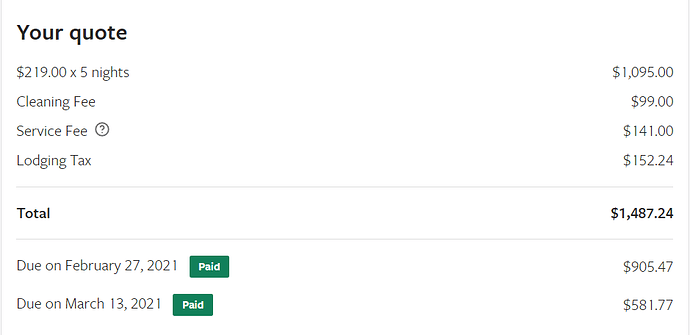 I believe theyre owned by the same company, ive always considered them interchangeable.
This topic was automatically closed 7 days after the last reply. New replies are no longer allowed.