Power to you, but that meets my definition of nuts.
Staying safe from the covid on that ride?

In all seriousness is that for weather? I have noticed my cloth mask is actually very nice in the cold winter.
Back in the 80's, after my dad had his first heart attack, the Dr. told him he needed to get more cardio.
He would walk to the Post Office and back every morning, about 1 1/2 to 2 miles. In the winter (Nebraska winter, damn near Minnesota) he would wear a mask to keep from breathing cold air (I think the Dr. told him to, but not sure).
Two weeks ago, with break in the weather, I thought I would go out.
I got about two blocks, said "fuck this", and came back inside and got on the elliptical.
That was a balaclava and not a mask. IT works to keep my face warm but I sometimes have to uncover my mouth because when you have to stop, my glassed fog up.
That's my least favorite part of masking…the fog.
On January 8, some of us decided to meet at 11. These are the people who showed up. When I got out of the garage, my driveway was "damp"…not really wet, but not dry. It was 34 degrees. It's 2 miles to get to where we meet and I rode down and I noticed that my tires were wet… There was also mist all over my glasses. I was just going to meet them to tell them I wouldn't be riding, and most of us were going to bail, but finally decided to to a very short ride for coffee in downtown Overland Park. The gal on the ride summed it up best - 15 miserable miles (she rode farther than we did).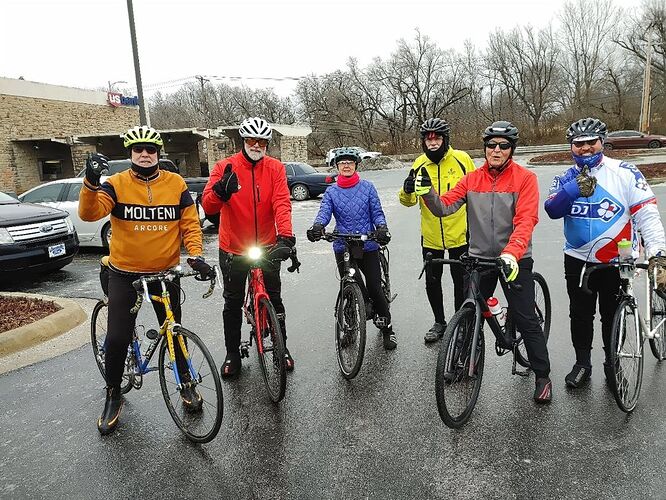 Otherwise your beard would freeze.
That is no fun either.
Back when I was die hard motorcycle rider, I would break ice off the handlebars and seat and ride. Wholly crap it gets cold on a motorcycle in freezing weather.
More power to you!
I had a couple of buddies that would put studded tires on their dirt bikes and ride on frozen lakes in the winter.
Short video of a Motorcyclist being chased by Police comes an abrupt ending. Looks like it happened today in California.
Yikes!!
She held her composure quite well.
I hope his organs are still usable.
I bet he doesn't have the guts to do it again!
Yes pun intended.
Something tells me that was a suicide.
Oof, 19 is cold, can't do it. A friend is celebrating New Bike Day so were riding about 20 (mountain biking) on monday. Forecast was 27 so I was out, now it's 35 so I'm in. Yes, 8 degrees makes the difference.
He has no need for his organs, as he's dead.
That was funny…
also he went "head over heels" with is new bike.