Someone with real self reflection
The problem with this narrative is the timeline and the science. Those involved in the research, the heads of the pharma companies, and Trump's CDC Director all said the vaccines could not be ready before the election. So, if it had come out before, it would have only been because Trump overruled the scientists and forced it out for his own selfish reasons. He couldn't do that, so we got vaccines that went through the refill process.
I have little doubt that had the full process been able to happen before the election, partisanship would have affected the rollout. But that scenario was never possible.
I was always under the impression that FDA would give the thumbs up or down and as the decision got closer, there was an independent board of scientists that would analyze the data and make their own recommendation to the FDA. In October I remember the almost daily drip of positive news on Moderna and Pfizer trials, that almost made me feel good about a potential vaccine.
I looked at Trump's boasting of the vaccine being ready in October as blatant pandering, I didn't pay attention to it. I looked at Harris saying she wouldn't take a Trump vaccine as political, I didn't pay attention to that either. When the FDA authorized it, I was all in knowing politics didn't play a role. If Trump legitimately won the election I would've gotten my shot when it was my turn, if Democrats wouldn't have gotten the 'Trump' shot then they aren't that smart.
Idiocy is not a partisan characteristic
People are clueless on both sides
Snowflakes are on both sides too
Parrot is right. There is a sizeable group on the Democrat side that may not have gotten the shot had the election had a different outcome. There are still some on the GOP that still wouldn't have gotten the shot had Trump won just like there are some liberals who are afraid of the jab. But polarization played a role
Until the fairly recent past, that is something I could find agreement with you upon. It just doesn't ring true anymore. The hesitancy of many of the right-leaning southern tier and western states to accept the vaccine or wear masks based largely on misguided political concepts is just the most recent example of the idiocy epidemic. And the election and continued support of someone like Trump as president and the continued support for another run, I don't think something so obvious needs explaining. It sorta would fit best in another politically satirical film like "Being There." A cautionary tale, but not something ever likely to happen – until it did.
There's science to back up their claims that only a properly fitted N95 mask protects you and more importantly others from COVID
The problem is we studied droplets. We did not actually compare the infection rates of people in studies who got COVID with no mask vs those who got COVID with a mask to see if there was an improvement. We also never understood aerosols
We did see some anecdotal evidence that cloth masks worked but when they were studied against N95 masks, there was no comparison
As for Donald J Trump, he has every right to be Grover Cleveland. If people like him, he will get another 4 years. If people don't like him either another GOP candidate will win or the Democrats will have 12+ years in office
Two of the most red southern states have far fewer deaths than very blue northern states such as New York, New Jersey, Massachusetts and Illinois.
Also Florida's vaccination rate is higher than the very pro-vaxx Illinois where the idiot democrat governor is on TV everyday telling Illinois residents to get vaccinated.
The raw statistics still show the teams with the Red Shirts are far out in the lead. And many don't have huge black populations either. Go figure?
I do need to find out what happened in Rhode Island, that's an outlier that needs some explaining.
How things are going in Red State, Red County, SC. County population around 75k. Nice place to live, but I wouldn't suggest visiting just now.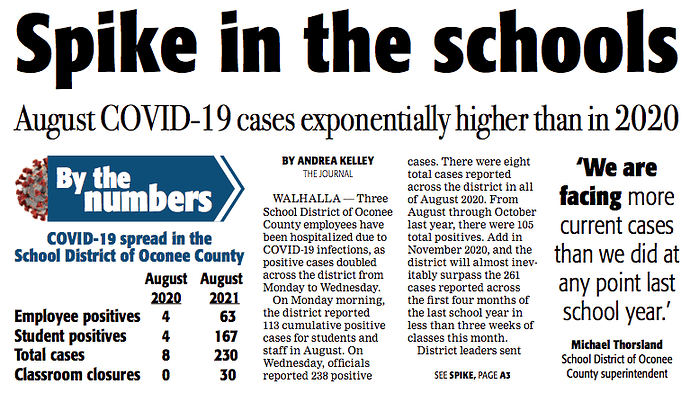 BTW, Bears black population about 7.5%, in case you're tempted to go there, which you usually are.
If you don't want to die from Covid I'd visit North Carolina before New York where they have over 100 more deaths per capita. But New York is doing things right.

In the Black Hills of So Dakota right now. Rapid City news reports that the largest group being hospitalized here are those in their 30s, and the second largest are those in their 20s. There is concern about the volume of hospitalized patients and the shortage of nurses (SD apparently has the lowest average wages for nurses). It hasn't dampened the number of visitors though, including families with small kids (nearly all unmasked). I've seen various numbers reported over the last ten days in SD and ND, but it is clear that at least 90-95% of covid deaths are unvaccinated.