We went to a Cocktail lounge with music downtown and danced. We just seemed to fit
But what we talked about most over the years is that I drove around the Block several times to find a free parking space. She knew what she was getting.
On one of our early dates I used a coupon for dinner and asked if she thought I was cheap, she said no because I'll have more money for drinks later. We've been together for 29 years.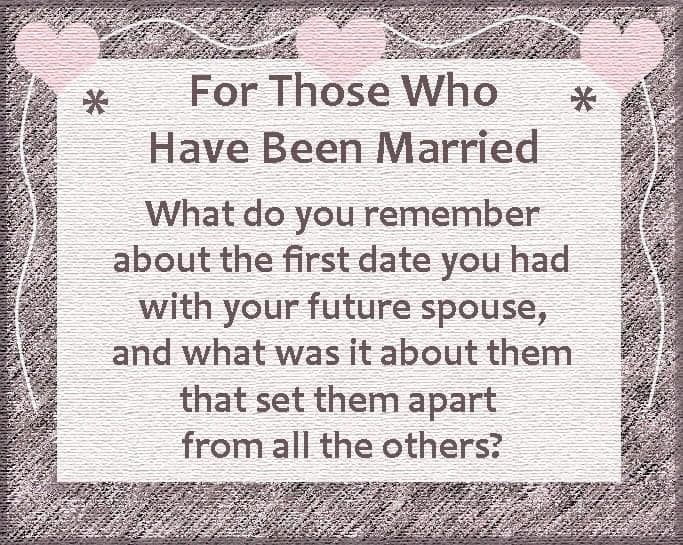 We met through a mutual friend playing volleyball, I was attracted to her because she wasn't my usual type and my buddy who grew up with her said there's no way she'd date me. I accepted the challenge and won.
One of our early dates was seeing the movie "For the Love of the Game" with Kevin Costner.
For those that don't know, it is a mix of a love story and a baseball movie.
After the movie my future wife asked me if I cried, and I said a little bit.
She asked when, and I told her it was when the catcher, John C. Reilly, came out to the mound and told Costner's character "we don't suck today".
She looked at me like I had three heads.
We went to a Chinese restaurant on our first date. During dinner I commented that the tea at a Chinese restaurant is much better than the tea they give you with take out. His response really surprised me. He said that is because they brew loose leaf tea in a restaurant but give you tea bags instead when you order out. That is why he only brews loose tea at home and has ten different kinds of tea to brew. He then asked if I wanted to go back to his apartment after dinner to try one of them. At that time I thought I was a sophisticated New Yorker who had heard every line in the book but this was a new one for me. That made me think he was very cool and and I felt that way about him until the day he died last month.
Maven,
You just won the internet!!!
This topic was automatically closed 7 days after the last reply. New replies are no longer allowed.